A New Folk Revue Review
Wednesday, December 07, 2005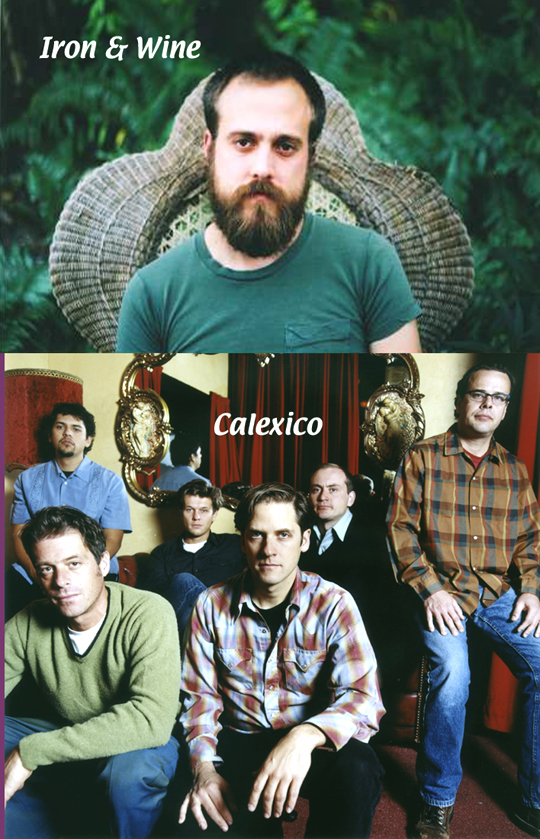 Saw a great concert Tuesday night: Iron & Wine, and Calexico. These are two of my new fave bands, and while I never would have seen it coming, they collaborated on an EP (that's like a CD but shorter) that came out in September. Here, we get each band alone, plus everyone together, plus three other acts. The first notes were played shortly after 8, and the music kept coming until about twenty after twelve with very little downtime.
And it was unlike any show I'd ever seen before, in that it was a rock show, sort of, but it was so mellow. The venue was Webster Hall, which I remember from the 80s when it was the Ritz and I saw the original Pretenders, Plasmatics, Eurythmics, Utopia, Los Lobos, the Blasters, Marshall Crenshaw, and Squeeze (to name a few) there. I was inside 40 minutes prior to show time, and found myself a nice comfy spot on the raised platform to the side, where I sat (or indeed lay down) for most of the evening. I was surrounded by a gaggle of 20-something girls (sorry, I know that's not politically correct, but trust me, these were girls, as in, "Did that boy call you back?") The crowd was surprisingly heavily female, although I realized later on that Iron & Wine has a distinct feminine appeal. Usually being in the middle of so many young girls would make me feel old, but here it just made me feel… I dunno, sort of hip. (I even gave boy advice to the two sitting next to me; they were in the midst of texting to a potential suitor of one of them.) Indeed all through the show the phones were out, the girls around me texting the night away.
Tim Fite hit the stage at a little after 8. He had a three piece—himself, his brother, and a computer. I can't describe what they did, except to say it involved acoustic guitar, singing, computer graphics, suits, and sound effects. The video screen showed a musician (it might have been Kite) playing various instruments throughout the set, and each time, the music the image on screen was making was part of the live sound. Very trippy effect. At times I was reminded of Talking Heads, Flash and the Pan, and Devo. Whatever it was they did, I thought they did it well. Local boys though; I don't think they're on the tour.

Calexico was up next. I've become quite a fan of theirs over the last 18 months or so; they're from Tucson, and the music is very Southwest, very Tex-Mex, very noble and moody and American. During their set they went through numerous permutations and combinations, shuttling players on and off the stage; one song might be just trumpet, voice, and acoustic guitar; the next might have 8 players on stage, some of them members of Calexico, some of them friends who just happened to be there. Their set was heartfelt and sounded just as I'd hoped it would. Great clarity, top-notch playing, and the moody Southwest vibe was leavened with some in-the-moment joy.

When Calexico left the stage, flamenco singer/guitarist Salvador Duran, who was on stage with them for their last number, stayed out and performed a mostly solo set of folk-oriented songs on acoustic guitar and harmonica, singing mostly (and maybe only) in Spanish. No down time at all between sets; he continued right out of Calexico's last number. On a couple of tunes he was accompanied by a lone, plaintive trumpet. A brief set-- 15 minutes or so-- but very nice; it was his first time in New York, and he was made to feel welcome. (If you have the In the Reins record, he's the one with the deep voice on the first track.) Duran is a Tucson-based artist, and has been on the tour with Calexico and Iron & Wine.
Brooklyn folk singer Mary Mulliken played next, as The Mullikens. Easy-listening, Lillith-style folk that fit nicely with the vibe of the evening. Overall, though, sort of a pallate cleanser before the rest of the show.
After a short break, Iron & Wine took the stage. It was clear from the response that this was Sam Beam's crowd. Beam, a Florida-based songwriter and former college professor, IS Iron & Wine. His records feature a minimalist follk approach that seems discontinuous with the history of folk; I can't find his influences. His sound is distinctive for the whispered, hushed vocals (supposedly he recorded the first Iron & Wine record at night after his daughter went to sleep, and had to whisper the vocals so as not to awaken her.) Beam had his sister with him on backing vocals and violin, and a number of other musician came on and off the stage. I recognized songs from all their records, including a couple from this year's Woman King ep. Beam is laid back to the point of deadpan, and he sports a full beard that seems somehow out of time. The net effect is about as anti-rock star as I've ever seen. Their set was outstanding, hushed and soothing and yet engaging and spellbinding; edge-of-your-seat listening deceptive for its low energy sound.
In the climactic segment, Calexico joined Iron & Wine for a presentation of In the Reins, their collaberative ep released in September. Truthfully, with so many musicians coming on and off the stage, it would be impossible for me to even attempt to guess who was actually in each of the two bands; but the shuttling continued during the joint set as well. The two groups of players melded seamlessly into one large entity, with Beam doing most of the singing, and with much vocal accompaniment. Calexico's Joey Burns co-fronted the merged band, and he and Beam seemed to have great mutual respect. Two neat covers: The Velvet Underground's "All Tomorrow's Parties," and on the penultimate encore, the Stones' "Wild Horses," sounding a little like the Cowboy Junkies.
The crowd remained remarkably civil-- almost no testosterone in the room-- and the music was lovely and friendly all night long. It was like a lovefest; great music, rendered with conviction and courtesy, and lapped up by an apreciative but surprisingly laid back room full of young adults (and one old one.)
______
Cool link of the day: You can download the Calexico, Iron & Wine, Duran, and In the Reins sets from Washington's 9:30 club, each set as one long MP3, at NPR's site right here.
Labels: The tunes