Faded Glory
Wednesday, June 28, 2006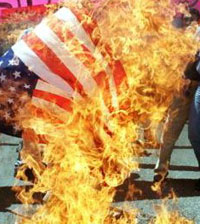 As an American, I'm offended that the idea of amending the constitution to ban flag burning actually made it to a senate vote, let alone came within a single vote of passing. (Russ Feingold, you voted FOR this? Pussy!) As I write, I'm listening to the chowderheads on Fox—including the scary-dangerous demagogue Sam Brownback—unanimously pledge support for the idea of protecting this symbol of the US. It really is amazing.
There are three reasons why I think all Americans should oppose this amendment, besides the whole trampling on the first amendment thing.
1. Because it is election year pandering of the worst kind.
With real issues affecting the lives of Americans—terrorism, an unjust and ill-founded war, illegal immigration, the economy—it is outrageous that the United States senate can waste this kind of legislative bandwidth to address a topic that doesn't make a damn bit of difference to anyone. Period. Every second spent on this kind of inconsequential fluff at the expense of real substantive issues, is an affront to the American people.
2. Do you know the official proper way to dispose of an old American Flag?
Yup. You burn it.
(See 176k)
3. This amendment is the flag burner's best friend.
The only real reason to have a problem with flag burning is that you are offended by the political statement the gesture makes. Well, once you make flag burning illegal, you have turned the act into a substantially more profound and effective political statement Outlawing flag burning is actually the best thing you could do for the flag burners.
(And of course, if you outlaw flag burning, only outlaws will burn flags.)
True to form, conservatives who routinely wrap themselves in the flag (look at the iconography on conservative blogs; the flag has become a fetish object) confuse the thing (freedom) with the symbol of the thing (the flag.) But I guess, if you have an agenda of rolling back freedoms, e fetishism for the symbol is effective misdirection. And if there's one thing at the core of conservative Republican politics, it is misdirection.
Labels: The politics