Record Spotlight: Fun for the Whole Family (No, Really)
Wednesday, August 30, 2006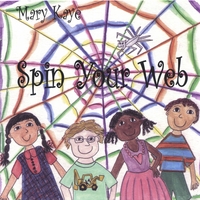 As a life-long music junkie with a 2-year-old daughter, I am always on the lookout for music that can appeal to the whole family. So when Mary Kaye's newest release,
Spin Your Web
, crossed our desk here at APW (and it did, literally, cross our desk), well, I was intrigued.
Kaye is an educator-slash-musician (there are a couple more slashes there too) from Maine who makes what is ostensibly kids' music. I say ostensibly, because the first time my wife and I played
Spin Your Web
, the baby was asleep, but we felt no great need to replace it with, say, U2 or Ani DiFranco. The record is a beguiling, low-key, easy-to-listen-to mix of traditionally influenced folk music, with a distnnct world flavor. The title track has an African beat and a tribal-sounding vocal arrangement, built around a percussive beat, no chord changes. It's the first track, and it feels a lot like an invocation. The next tune , "B.B. Dickenson" (who is a super-girl detective) is set to a reggae beat. Then a bit later, on "Pig Party," you have square-dance fiddles and a folk sound that conjures an almost Celtic vibe. The closing "Blueberry Dreams" combines a straight folk singer-songwriter take with doo wop counterpoint vocals. All throughout, you can hear that Kaye and her partners in crime are having fun. And if a kids record isn't fun, for goodness sake, what's the point?
If there is a common musical thread through the record, it would be the way that various cultural styles of organic folk music are stitched together into a nice comfy tapestry. That, and the sheer jauntiness of the thing. At APW, we generally believe jaunty is good.
The lyrics are playful and describe little daily travails in the lives of kids; where some kids content can be patronizing with lessons writ heavyhanded, Kaye delivers them with the ease and grace that only empathy can provide. In "Let's Get Dressed," Kaye offers these lyrics-- "Put on your pants... got'em on backward, turn 'em around..."-- interspersed with an upbeat "do-da-do do do" refrain. And its fair to say the message in "Waiting"-- "I'm waiting, I'm waiting, I'm still waiting, when are we going to get there?"-- is universal.
I think I'd sum up
Spin Your Web
like this: imagine if you went to Lillith Fair, and they had a daycare stage. This is the kind of music that I'd expect to hear eminating from that stage. My wife, the bigshot know-it-all teacher with the two masters degrees, says this is the kind of record a teacher might want to play in the classroom during a break period.
Spin Your Web
is yet another in what strikes me as a delightful trend-- kids' music that grown-ups can enjoy. I remember listening to Raffi records when my nephew was younger, and wanting to tear off my own ears. But
Dan Zanes
has turned the whole idea of cool kids tunes into a cottage industry, and Jack Johnson's
breezy Cutious George soundtrack
is fun for the whole family. And now Mary Kaye. Between records like this and the subtle operatic brilliance of
Wonder Pets
, there is more my daughter and I can enjoy together on equal terms than I would ever have imagined. So yeah, I liked it. Let's give it 4.5 sippie cups.
You can buy this record from the always-recommended, indie-artist-friendly CD Baby, and a simple click of this whole sentence ought to get you there.
At this point, I should probably mention that my daughter likes it too. Which she expresses by shaking her little groove thang when we put
Spin Your Web
into the player.
CLICK HERE TO LISTEN TO "CHILD," OFF THE 2006 MARY KAYE RELEASE

SPIN YOUR WEB.
Labels: The tunes